The best and easiest way to upgrade your old halogen downlights to LED Downlights.
If you still have old types of down lights maybe it's time to think for an upgrade. Sometimes it seems difficult to follow through the process from selecting the right lights also installing in place. Changing the old bulb is easy if you just want that here you will find great GU10 LED Bulbs
If your old downlights looks not nice you may also want to replace them as well to something new. In that case you have few options.
You can change the Downlight Fitting to NEW and use GU10 LED Bulbs
You can change the whole unit to NEW LED Downlight
I would like to show you something…
A NEW LED Downlight with
Same cutout size as the old down lights
50W Halogen equivalency,
3 STEP dimmable with a normal on/off switch (no expensive dimmer switch require)
Beautiful white and brushed steel finish
3 different colour temperatures to chose from warm white, day white or cool white
affordable low price
Ledlam LED Downlights 5W Tilt 500DPD 3-STEP Dimmable
3-STEP Dimming
Unlike other traditional dimmable lights, the 3-STEP Dimmable lights offers a unique in built dimming mechanism where you can dim the bulb using the switch you use to turn it on. It's simple! You turn the switch off and then back on, and it will give you a change in the output of your light. It gives you three levels of lighting, without the need of an expensive dimmer switch. They work on an output sequence of 100%-50%-10%, one after the other. Moreover you can adjust the brightness of these LED Downlights with Varilight V-Pro LED dimmer switches as well.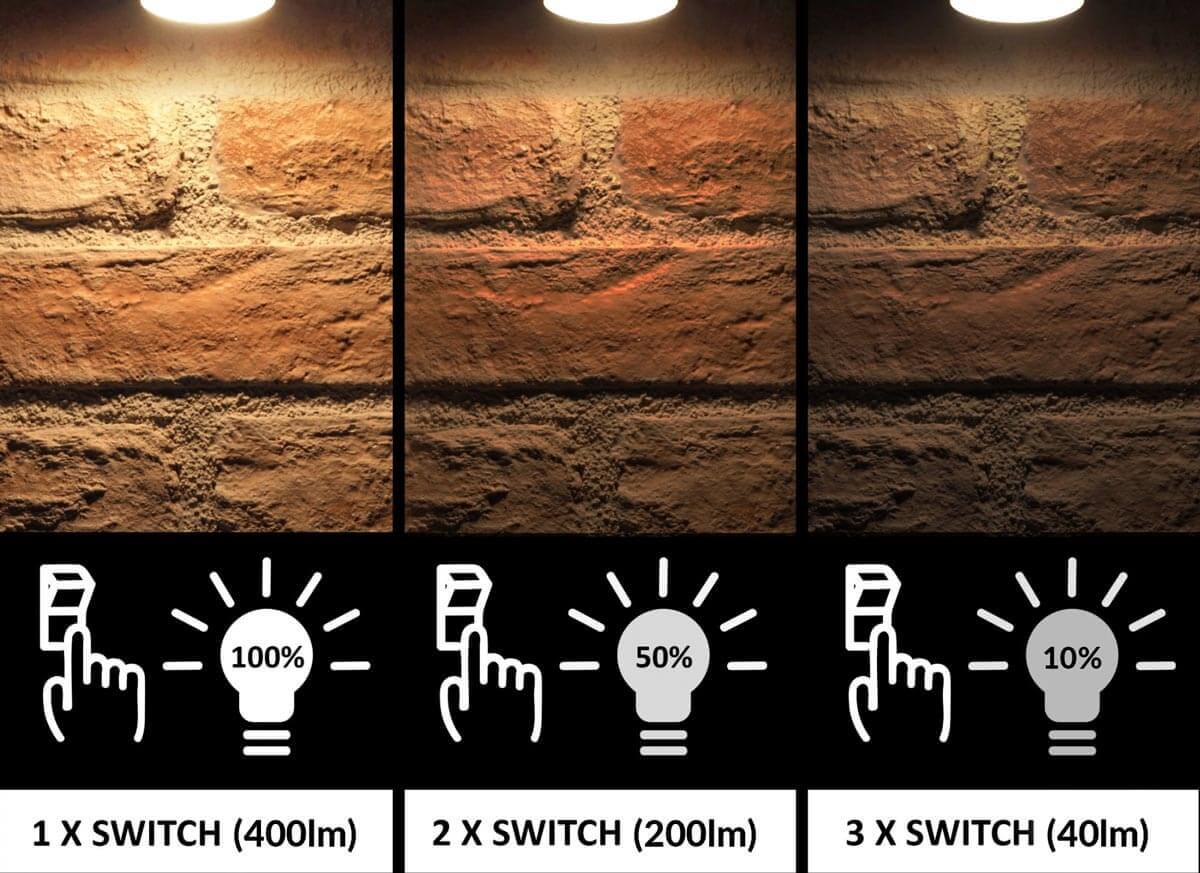 These Ledlam LED Downlights are completely FlickerFree so you will get the best lighting effect without any compromise.
The tilt function allows you to change the angle of the lights plus minus 30 degrees, this way you can direct the light to desired way.
Box includes:
3-STEP dimmable LED Downlight with built in driver,
Spring fitting clips
Comes in 2 different finish, beautiful Brushed Steel and White.
71mm standard cutout size

, beautiful look.
Equivalent to an old 50W Halogen Down Light, offering similar brightness using around 10th of the power.
These LED Downlights are using 90% less energy than the original old bulb and lasts 30 times longer. Also, unlike standard energy savers, this LED doesn't contain mercury and switches on instantly. Thanks to the High Quality, High Brightness SMD LED Chips this LED Downlight is one of the best alternatives to the old 50W Downlight.
Standard 71mm cutout size

straight swap from old halogen downlights

depth only 30mm

easy to install
They are available in 3 different colour temperatures as usual from Ledlam, warm white, day white and cool white.
Changing the whole downlight seems difficult but actually not, you just need a screwdriver, a bit of DIY skill and these 6 simple steps.
Switch Off the Mains Power
Remove the old downlights
Disconnect old downlights from mains (use the screwdriver)
Connect the new LED Downlight to mains
Move NEW LED Downlight back to place.
Switch ON Mains Power and enjoy your new LED Downlight
Now you can get these clever LED Downlights for a special price. Click below to get more info.